So I really like music and I think it would be a great idea if everyone could share what their favorite song or artist is at the moment. Next monday, if I'm still up for it, I'm going to start a new meme to do just that. I've already come up with a name for it but I'm gonna wait to reveal it. ;) Not that it's too cool top secret or anything, I just don't feel like sharing. I really want this blog to be more than just a YA book blog. Anyway, let me know what you guys think.
In the mean time... the song I can't stop listening to right now is
Airplanes by B.o.B ft. Hayley Williams of Paramore
. I absolutely love the lyrics that Hayley sings. And I found this graphic that goes with the song. So pretty!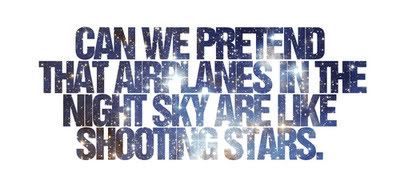 courtesy of wordgraphics.tublr.com